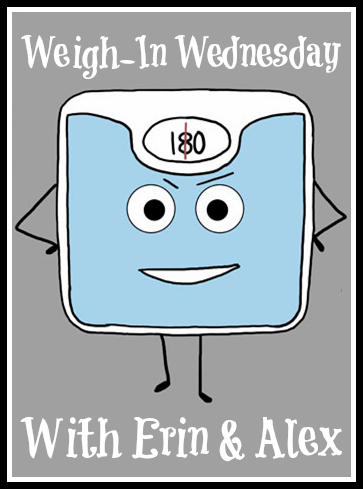 Weigh-in Wednesday is here...time to step on the scale. I did ok at the end of last week, and totally kicked it up with eating well this weekend. I told myself after last Wednesday I needed to get it together with my diet. I've stuck to my meal plan so far this week and we haven't ordered takeout! That's huge for us since we normally do it once a week. Since last weigh-in I've ran 10 miles, done 2 cycling classes, and 30 minutes of pilates. I even took Nugget on a bike ride this morning. So here's the moment of truth:
.
.
.
Down 2.7lbs! Woo! I'm pretty happy with that number and know I will keep it up this week. I'm really hoping to be at 150 by my birthday (March 3), so that's the short term goal for the moment.
One thing that has been a big help this week was apple cider vinegar. I used to drink it a few months ago because of the health benefits and it really helped to keep my hunger at bay. It's not the best tasting drink, but you get used it it. I make it into a tea if you will, by adding it to hot water and stirring in a bit of honey to help with the flavor. Hubs thinks it's NAS-TY, but it's not too bad. I've read so many things about the benefits of ACV, so I'm really going to try and keep up with it.
Off to take a nap. Nugget is having some sort of growth spurt/sleep regression/teething thing that has caused him to be up for 2 hours the past 2 nights. This mama needs her beauty rest!