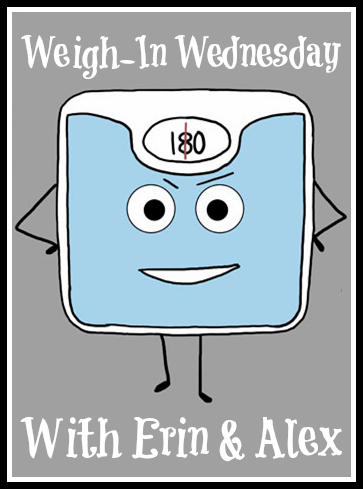 I almost forgot to weigh in this morning. Nugget decided 4:50am was a fabulous time to get up and start the day. I fed him and put him back to bed and Hubs took the monitor while he got ready for work. Apparently Nugget just sat in his crib talking to himself instead of going back to sleep like I had hoped for. At least I got to sleep in until 6:15, but I really wish he'd stop waking up so early.
Thankfully, I remembered to weigh in before breakfast! I was a little worried since we went to Macaroni Grill for my mom's birthday Sunday night on top of our cheat meal we had last Wednesday, but the scale gods smiled upon me.
.
.
.
158.7, down 2.1lbs!!!! I lost 8.3lbs. this month and I haven't seen the 150's since-mid 2010. Seeing a 5 instead of a 6 was amazing...I've been stuck in the 160's (due to no fault but my own) since October! Now if only I could start fitting into smaller clothes. I feel like I've been stuck in the same size for a while, thanks to the lovely post-baby pooch. Ew. Only 8.7lbs until I hit a major goal for myself with 4.5 weeks left until my birthday. I. Can. Do. It.
I managed to do a spin class yesterday despite my ankle. The instructor gave me some modifications and I made it work. I skipped class this morning because I knew Nugget would have a serious melt down due to being so tired. I'll be giving Zumba a try this afternoon since my ankle feels better. I'm the whitest Spanish person EVER, so we'll see how this goes. Here's my workout for the week:
Wednesday: Zumba, 4 mile run
Thursday: Spin class
Friday: 3-4 mile run
Saturday: Walking around a theme park (totally counts, right?)
Sunday: 10k run
Monday: Rest
Tuesday: Spin class, 4 mile run
Ready to see 2lbs. less next week!