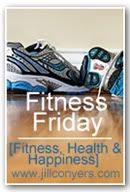 Today's workout was a bit different than what I had planned. We (Nug and I) were supposed to go to our first running meetup with a local moms running group at 9am. I was looking forward to meeting some new runners, but not so much about having to push 25+ lbs in a jogging stroller that probably weighs the same. Not to mention he would've started screaming about 20 minutes in and this was supposed to be a 3-4 mile run.
Either way, Nugget had other plans. He woke up at 4:53am so I knew there was no way we were going to make it there and back before he needed a nap. Not to mention it's cold (46 degrees is cold in FL, people!) here, so I was ok with no outdoor running.
We hit up the gym this morning and I decided to skip spin class and try some of the other classes. I did 30 minutes of kickboxing, which was surprisingly much easier than I remembered (or perhaps I'm just more advanced - yeah!). The class afterwards was Cardio Combo and was supposed to be 30 minutes.
It was an hour.
And it was hard!
We did the warm up and I was all, yeah I can do this, NBD. Wrong! I mean, I did do it, but barely. We did exercises in counts of 15. So we did 15 push-ups, followed by 15 high knees. Then 14, 13, 12, etc. The second circuit, if you will, was 15 squat jumps followed by 15 seconds of planking...14,13,12, etc. Last circuit was 15 lunges followed by the "dancing crab" and again 14,13,12... After those we did some weights and core exercises, which thankfully, I could handle.
This is where I discovered that despite being a runner, I'm still not in great shape. I also realized I have the WORST upper body strength.
EVER.
You'd think carrying around a 25+ lb toddler would give me some serious guns. You'd think I could do one real push-up...heck, even one modified push-up all the way down and back up.
If you thought this, like I did, you would be wrong. I've decided I need to keep going back to this class. Since it was a challenge, I clearly need to be doing it again.
I've also decided to make a resolution to be able to do a real push-up by my birthday (do-able, right?). Not being able to do one transported me back to elementary school when they would do fitness tests. Could I do a push-up then? I don't remember, but I doubt it.
Time to start focusing on my whole body and not just the buns, hun.
Hoping to not be too sore for my 10k on Sunday. Have a great weekend!